Bringing up pictures of doctors smoking cigarettes is a common tactic used by anti-GMO activists and other critics of "mainstream" science to cast doubt and mistrust on matters of scientific consensus by implying that a world wide scientific consensus can realistically be bought off by corporations, and insinuating that that is, in fact, what is actually happening.
The claim comes up frequently enough that I think it deserves to be directly addressed, so let's put this tired canard to bed for all time.
One of the fatal problems with this argument, of which there are many, is that the scientific consensus never was in favor of cigarette safety to begin with. In fact, it was known as far back as the 1930s that epidemiological data suggested a connection between smoking and lung cancer, and other detrimental health effects were documented as far back as 250 years ago.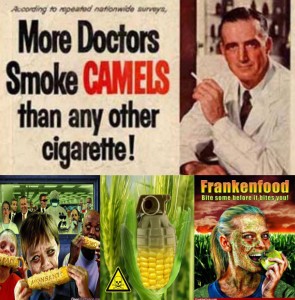 People using this comparison between tobacco companies and the consensus of legitimate science are attempting to equate the content of paid advertising campaigns with the views of the broader scientific community, which is naive at best, and dishonest at worst.
Looking back, the thinly veiled obfuscation attempts by the tobacco companies seem conspicuous now because the dangers of smoking had already been established (and were continuing to be further established) by independent research, while the tobacco sponsored researchers were simultaneously attempting to formulate alternative explanations for the increased cancer risk and other health problems correlated with smoking. The tobacco companies never controlled the science of the matter and never really had scientific consensus on their side. What they had was a good PR department and enough cash to bankroll a few scientists and doctors into speaking positively about smoking tobacco despite the weight of the evidence against them. These phenomena are elucidated here , here and here. The same companies later exhibited similar patterns of behavior for many years with respect to the controversy surrounding the health effects of second hand smoke.
On the other hand, the safety of genetically engineered foods does have a strong scientific consensus behind it, and there aren't really any credible studies from any source showing any damage to animals or people attributable to any of the currently used transgenic crops. There is simply no evidence of an attempted cover-up, and there are no papers postulating alternative explanations for negative results, simply because no such results have been found that would require explanation. Moreover, there is no systematic contradiction between independent studies versus industry-funded ones either, which we should expect to see if "Big Biotech" was really manipulating the data and buying off all of the world's biotech scientists.
Instead, the only evidence we find of deliberate spin and misleading data is in papers by Seralini, Seneff and Carman, which have been found to be lacking in solid, credible scientific rigor, and by frequently repeated claims by anti-GMO front organizations and their supporters. Although most of the media attention tends to focus on "Big Biotech," organic food  is an $63 billion dollar industry, much larger than any of the big biotech companies, and many of them have been engaged in vehement ongoing smear campaigns opposing transgenic crops, yet their allies consistently publicly criticize biotech companies for fighting unjustified labeling mandates and accuse them of buying off scientists and scientific journals (despite having precisely zero evidence to corroborate their accusations).
Ironically, Just-Label-It and Mamavation, two of the most well known anti-GMO groups, have been openly advertising to pay bloggers to argue for their cause, thus demonstrating that their hypocritical use of the shill gambit against pro-science people has been nothing more than a case of psychological projection (as Kavin Senapathy discusses here). The infamous Mike Adams, the founder of anti-science website Natural News, even went as far as to assemble a "kill list" of known scientists and science advocates he characterized as "Monsanto Collaborators." To the best of my knowledge, not even the tobacco companies have stooped as low as to call for the execution of people known for debunking their claims.
So, the reality is that there is no analogy between GMOs and tobacco.
There is evidence of detrimental Heath effects from smoking being known to science 200 years before the tobacco company fiasco that tragically duped so many laypeople.
The safety of cigarettes was never the prevailing scientific consensus, and people looking for justifications to ignore or deny science now will just have to come up with a better excuse than this.
QED
BOOM!
UPDATE: 
Shortly after the original publication of this piece, Marc Brazeau, founder of Food and Farm Discussion Lab, wrote the following response piece. In the piece, Marc takes issue with a line towards the end of this piece in which I said:
"So, the reality is that there is no analogy between GMOs and tobacco."
He agreed with everything else in the original version of this piece except for that concluding line, and I think it's worth looking at his argument, because upon examining it, I think that he's right. Marc argues as follows:
"I would actually argue that there is a strong analogy between GMOs and Tobacco Science. What obscures the analogy is that the roles are reversed in ways that obscure the parallels. With "tobacco science" we had big business twisting, cherry-picking and manipulating the science in an attempt to confuse the public and provide cover for policy makers they have in their pocket. What we see today with GMOs is similar twisting, cherry-picking and manipulating of the science relating to biotech crops in order to confuse the public and drive policy-making.

Except that instead of Big Ag, the source of misinformation and misconceptions is environmental and public interest watchdog groups. For those of us used to turning to these groups to make sense of scientific research and let us know the policy implications, this can be disorienting to say the least. If you are an environmentalist or any sort of liberal/lefty it can really throw you off your bearings to realize that they guys you thought were wearing the white hats are the ones blowing smoke, muddying the waters, and sowing confusion."
For examples, see here, here, here, and here.
Marc makes valid points, and I concede his (much stronger) conclusion: Anti-GMO groups are the ones guilty of utilizing the tactics of tobacco companies.